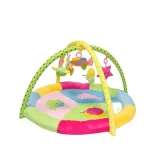 Comfortable baby with rattle toys
Comfortable baby with rattle toys
$44.99
The bottom of the 2 replaceable mat covers has anti-slip particles, suitable for most wooden floors, The baby play mats can be hand washed .
Easy to Set Up and Take Down: 100% baby-safe materials and non-slip bottom , The baby play gym can be installed .
Giving babies plenty of space for activities and games, accommodate up to two babies aged 0-6 months .
1 in stock