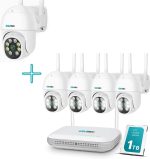 Sovmiku 3MP Home Security Cameras System,5 Pcs
Sovmiku 3MP Home Security Cameras System,5 Pcs
$379.99
Our wireless security camera system truly plug and play, because they have been matched before delivery.
Sovmiku security cameras support motion, and humanoid detection. You can also set up the alarm sound.
3MP resolution cameras for home security provide super HD image, let you see the every details of the monitoring clearly.