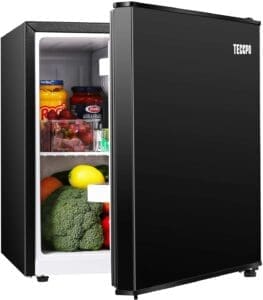 COMPACT YET CAPACIOUS: Despite its small size – 17.83″ x 18.05″ x 19.8″ (W x D x H), this small refrigerator provides 1.7 cubic feet large capacity chilled storage which could hole 40 cans. The removable shelf further expands its storage flexibility and makes cleaning easy. As the ideal fridge to keep under you desk, you will never get thirsty (or hungry) with this applicant ready by your side.

QUIET & ENERGY-EFFICIENT: With low-noise design, this small refrigerator has a noise level under 37dB, providing comfortable and quiet indoor environment for your living and working conditions. Supported by Energy Star certificate, it only consumes 0.55Kwh of electricity per day, saving your energy bill while let you enjoy a healthy low-carbon lifestyle

ADJUSTABLE THERMOSTAT CONTROL: The thermostat control of this mini refrigerator provides 6 temperature settings from 28.4 ' to 50 'Fahrenheit, for better adaption to external temperature to keep your energy bill low. This small refrigerator also comes with a light-degree freezing storage for ice cubes

HUMANIZED DESIGNS: One-touch Easy Defrosting System solve frosting problems by pressing one simple button. This fridge is also equipped with reversible door, you can change whether the door swings open to the right or left, specially designed for tight places. Lastly, adjustment leg help to placed the compact refrigerator steadily on uneven grounds
Compact refrigerator – TAMF30 – Mini Fridge – Live with TECCPO
TECCPO is a brand dedicated to the development and production of household tools and home appliances which are used widely in over 10 countries around the world. TECCPO's aspiration is to provide convenience and comfort to the life of our customers, and we have always endeavored to expand globally and to support current and future customers.
What can TECCPO Compact Refrigerator TAMF30 (1.7 Cu.Ft) do for you?
1. A High Performance Small Refrigerator
This compact refrigerator comes with an advanced compressor which produces excellent cooling effect. The light-degree freezing storage is cold enough to make ice cubes or store ice packs. Rest of the fridge is also cold enough to keep your food fresh.
2. Wide Application for Bedroom, Dorm, Office, Apartment, RV, Kitchen, etc.
The small and convenient size of this fridge allows you to fit it anywhere in the room without worrying about the space. The adjustable leveling leg and reversible door also helps to enhance its adaption. Additionally, this small refrigerator is low-noise designed allowing you to ignore it entirely when you are reading, studying even sleeping.
TECCPO Small Refrigerator 1.7 Cu.Ft. TAMF30
Only 17.83″ x 18.05″ x 19.8″(W x D x H) in size, this TECCPO TMAF30 mini fridge helps to maximize space utilization, allowing you to fit it in anywhere you like. The small size and appearance makes it ideal for bedroom, office, dorm, kitchen and apartment. Weights only 31.96 lbs, makes it portable enough to be put on the shelf or carpet. Regardless of its size, it is fully-equipped with advanced technology: the high performance compressor and evaporator cools air efficiently. Thickened foam and the removable magnetic seal prevent cold air leakage and enhance refrigeration effect, and therefore the refrigerator can efficiently save energy.
Keep Food Fresh

This small fridge has high and stable performance of keeping foods and drinks cold. The temperature of this compact refrigerator ranges from 28.4 to 50 F. You can set the temperature as your needs and keep you food at right temperature. Chilled storage perfect for fruits, vegetables, cooked food, beverage, drinks, etc.

Light-degree Freezer Storage

With high performance evaporator, this compact refrigerator comes with a light-degree freezer storage (0.2 Cu.Ft.).

Feel free about defrosting as this mini fridge has easy one-button defrosting operation. One simple press of the defrost button, defrost process will take part and ended automatically.

Full Use of Space

TECCPO dorm refrigerator TAMF30 is compact but it makes good use of inside space. Unlike other mini fridges, TECCPO dorm refrigerator comes with wide bottle bars to prevent bottles or food on the fridge door to fall down.

Super Quiet

This compact refrigerator generate a noise level as low as 37dB, which is even quieter than whispering. It provides comfortable and quiet environment for sleeping, working, reading, etc. You can put it in your bedroom, dorm, office, RV and so on.