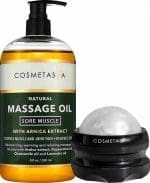 Cosmetasa Sore Muscle Massage Oil
Cosmetasa Sore Muscle Massage Oil
$45.99
Cosmetasa's Sore Muscle Massage Oil is crafted with a unique blend of quality oils to help soothe and dissolve tension in sore, tired and achy muscles.
The natural, soothing aroma combined with the lightweight, silky smooth, non-greasy qualities of our massage oil make it a perfect addition to your body care routine.
It help to glide on the skin and smooth any knots or tension, Just add a few drops of massage oil and enjoy a soothing, relaxing massage without pressure or pain in your fingers.